Dr Yeo Woon Chee graduated in 2013 from the National University of Singapore (NUS) with a Bachelor of Dental Surgery. Upon graduation, she served at National Healthcare Group and Singhealth polyclinics; and at National Dental Centre Singapore (NDCS).
Subsequently, she pursued her interest in orthodontics with a scholarship from NDCS, and completed her Masters of Dental Surgery in Orthodontics from NUS in 2019, with accreditation from the Royal College of Surgeons Edinburgh.
Dr Yeo loves her work, and wakes up everyday feeling fortunate to be able to help patients achieve the best smile that they can have. She takes great care of her patients, which has been recognised through the various awards and compliments she received over the years. In recognition of her outstanding patient care and service, she was awarded the Singapore Health Quality Services Awards and NDC Singapore SMile Awards in 2016, 2017, 2020, 2021.
Outside of work, Dr Yeo values spending time with her family and two energetic kids. She enjoys yoga, barre and growing her own edible greens. Dr Yeo can be found at Greenlife Dental Clinic – Bedok.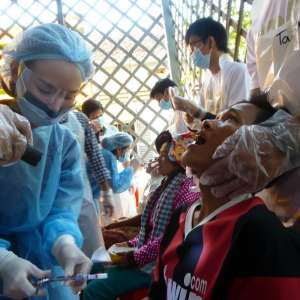 Dentistry beyond the clinics
Dr Yeo had volunteered for mission trips to Siem Reap, which was always humbling experiences for her as the volunteers who were people who volunteered their time and resources year after year. Locally, she has engaged in community services such as Singapore Dental Association Oral Health Awareness Committee, Singapore Dental Health Foundation dental screenings as well as with Humanitarian Organisation for Migration Economics (HOME).
Getting to know our Dentist
What is one advice you want to give to patients? 
Your smile is the most powerful thing you can wear!
What are your hobbies /interests outside of work?
Yoga, barre, and growing my own edible greens.

"We are what we repeatedly do. Excellence is not an act, but a habit." – Will Durant
What are the things that keep you motivated at work?  
Work is never dull, as every patient is different, with different needs and experiences. I am also motivated by the idea of growth, to always seek to advance myself personally and professionally, keeping current by leveraging technological advances and learning from peers and experts from around the world. I also find joy and satisfaction in meeting patients from various stages of life and being able to make a difference in their dental journey. I also cherish many precious moments such a child shyly pushes me a hand-drawn card, or when a patient asks for a photo at the end of their braces for memories sake, or leave encouraging words and reviews
What are your favourite dental treatments, and why?
Orthodontics. I love my specialty, and feel so privileged to be able to help patients achieve the best smile that they can have. It is wonderful to watch my patients grow and blossom, knowing that I may have played a little part in improving their self-esteem.