Dr Ilisa graduated from the National University of Singapore (NUS) with a Bachelor of Dental
graduated from National University of Singapore (NUS) with a Bachelor of Dental Surgery.
After graduation, she was posted to the National Healthcare Group Polyclinic (NHGP) where she gained much clinical experience seeing patients from all walks of life. She also served at the National Dental Centre performing advanced dentistry in the prosthodontic department, where she honed her crowning and denture-making skills whilst working alongside the specialists. During her service with the Singapore Armed Forces (SAF) in Selarang Camp, she developed proficiency in performing wisdom tooth surgeries and other complex dental procedures. She also trained new NS dental assistants, and had the opportunity to give a dental awareness talk to personnel from the Naval Diving Unit.
Dr Ilisa is meticulous, committed, and her cheerful disposition allows her to be able to build a strong rapport with her patients. She always ensures that every treatment done is carried out to the best of her ability. She also believes strongly in motivating her patients to understand the importance of dental care, arming them with the necessary information and skills in order to take control of their own oral health beyond the dental clinic chair.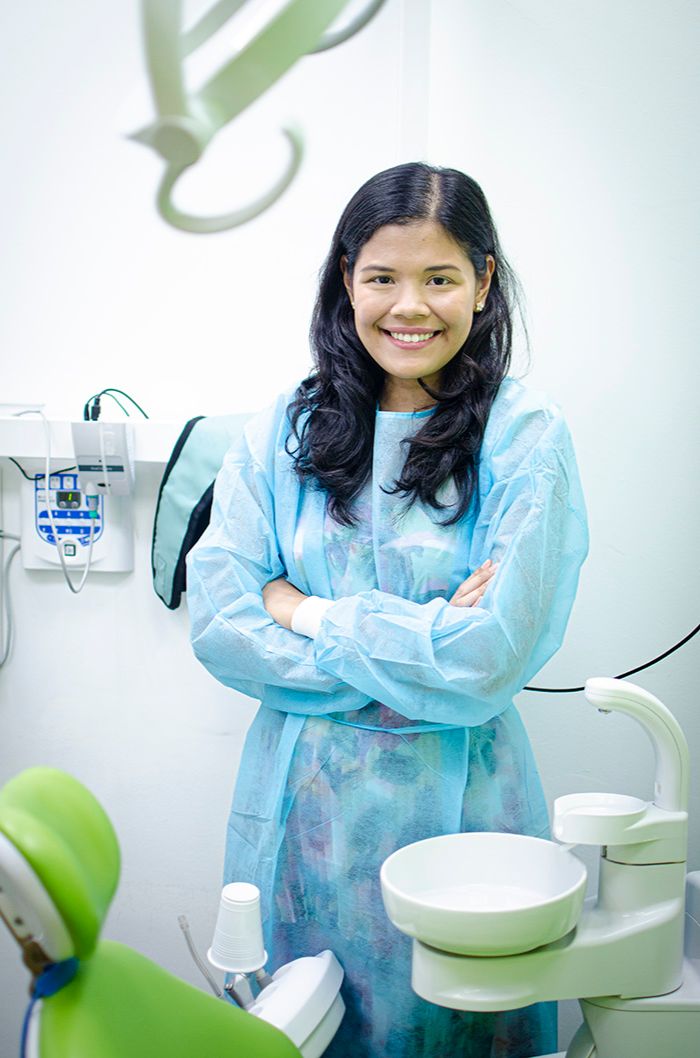 Courses attended
Osstem Implant course
Practical Clinical Orthodontics
Getting to know our Dentist
Why did you choose to be a dentist?
I've always enjoyed working with my hands ever since I was a kid, from crafting to cross-stitching, sewing and crocheting, so I decided to look for a career where I would be able to use these skills to my advantage. When I discovered (during a job shadowing opportunity) that dentistry requires a lot of attention to detail and artistry, I was sold!
What are the things that keep you motivated in dentistry?
I feel very encouraged when my patients return for their regular dental maintenance and I see that they have taken active steps to improve their oral hygiene. It signifies to me that, in some way, I have managed to make a difference in their dental health, and I find that extremely rewarding.

What are your Hobbies?
Travelling is definitely on the top of my list! I am also a certified advanced diver and am excited to embark on my next dive trip. In my free time after work, I am mostly working on crocheting projects, creating soft toys, home decor and baby rattles (some say I look like an "aunty" with my crochet hook and yarn!).

What are your favourite dental treatments, and why?
I enjoy performing wisdom tooth and implant surgeries, because I find these procedures challenging and rewarding. There is nothing more satisfying than being able to successfully deliver a stubborn wisdom tooth from its hiding place!

"I have managed to make a difference in their dental health, and I find that extremely rewarding."
Relate at least TWO most interesting / challenging experiences so far in yr dentistry career

I believe that being able to communicate well with my patients is the most important aspect in building a good dentist-patient relationship, and one good way is being able to speak to the patient in their preferred language. I am always tickled to see the look of surprise on many of my Mandarin-speaking patients when I answer their questions in Mandarin. However, my communication skills were put to the test when I came across a patient who could not communicate verbally. It was definitely challenging explaining treatment options and giving instructions during the dental procedure, but thanks to hand signals and the help of a pen and paper, the dental visit went smoothly (and I was very lucky I did not have to write in Chinese!).