Upon graduating from the National University of Singapore with a Bachelor of Dental Surgery, Dr Evelyn Yao had the privilege of working in various government institutions which included Toa Payoh Polyclinic, National Dental Centre (NDC), National University Hospital (NUH), the Health Promotion Board (School Dental Services) and the Singapore Armed Forces (Nee Soon). Her exposure in all these institutions gave her an all-rounded clinical experience, equipping her with the skills to provide essential dental services, wisdom tooth surgeries, chair-side behavioural management in treatment of young children, etc. At NDC and NUH, she also performed complex dental procedures and supported the medical team in the dental management of patients with complicated medical conditions.
With years of practising dentistry, Dr Evelyn Yao is well-positioned to provide a wide range of dental services ranging from the regular dental treatments, pain diagnosis to the more complex procedures such as crowning, denture fabrication, root canal treatment and wisdom tooth surgery.
Dr Evelyn Yao is gentle, patient and meticulous with her work. She treats her patients caringly and takes the time to listen to their dental problems and concerns before coming up with appropriate treatment plans that best serve her patients. She generally adopts a holistic approach when treating her patients.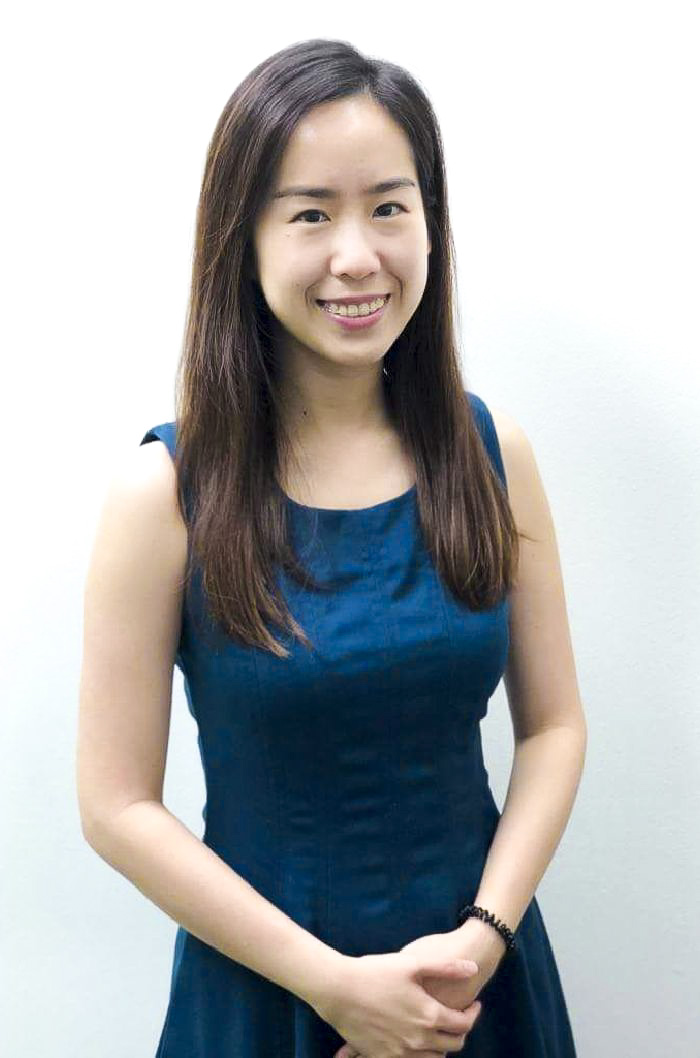 Getting to know our Dentist
Why did you choose to be a dentist?
Dentistry is a very fulfilling career as it allows me to help people by resolving their pain, restoring their masticatory function and improving their smiles.
I also get to meet people from all walks of life, interact with them and learn about different life perspectives from them.
What are your favourite dental treatments, and why?
1) Diastema closure and large anterior fillings because they require meticulous crafting to achieve good aesthetic results. Patients can also visually see the difference after the treatment.
2) Crowning because it requires a certain degree of precision in dimensions. There is a sense of accomplishment as I am able to restore the function of an otherwise vulnerable tooth and prolong the tooth's longevity. It is also satisfying when the crown is able to blend in with the rest of the dentition.
What are your hobbies?
During my rest days, I like to recharge myself by going for walks in various Singapore nature reserves and the Singapore Botanic Gardens. I also enjoy travelling with my loved ones whenever I can, immersing myself in mother nature and also learning about different lives and cultures around the world.
Relate an interesting / challenging experiences so far in your dentistry career
These two examples may not be the most interesting or challenging but they show that just by going 'back to basics' and providing proper treatments, we can make a huge difference to the patients' lives.
A young adult came in for a consultation for 'bleeding gums' and 'bad breath'. After examination, I performed a simple scaling and polishing procedure and spent the rest of the time educating him on proper oral hygiene techniques. He initially came in looking troubled and worried but when I reviewed him a few weeks later, he came in visibly more cheerful and proudly stated that he had followed my advice and now his gums were no longer bleeding. I often feel that dentistry need not be complicated. Going 'back to basics' by providing oral health education is equally or if not, even more important than the dental treatment itself.
An elderly came in to make a new set of dentures. His dentures would often dislodge as he ate and thus he was not able to enjoy his meals. After examination, I noted that his dentures were made in a suboptimal bite which made new denture fabrication more challenging. I took the time to ensure his bite was reset to an ideal position and inserted more retention features for his new dentures. He was finally able to chew things like leafy vegetables and tougher meat and was elated at the result. He even went on to recommend some of his friends to me! This reminded me that we should always strive for the best outcome for patients as our efforts do make a difference to their lives.
" I often feel that dentistry need not be complicated. Going 'back to basics' by providing oral health education is equally or if not, even more important than the dental treatment itself."
What are the things that keep you motivated in dentistry?
It's always gratifying to follow my patients through their dental journey and see how my treatments have improved their general wellbeing and quality of life. Sometimes, I can even see that they have become more cheerful and positive! Whether it is to resolve their toothache or to bring back their confidence to smile, I am always happy that I have helped them in some ways. There were also patients who first came in apprehensive and fearful about visiting the dentist. However, after being treated, they realised that the experience was not as scary as they had first imagined and later even became regular dental attendees.
Being able to form good rapport with my regular patients and being part of their life journey keeps me motivated as well. Some have gone from being young ladies to getting married and now forming a family! Others started out as students and are now working adults.
Not to mention, i have also made some really good friends and colleagues through my dentistry journey and working alongside them makes dentistry twice as enjoyable for me!