Dr Dennis Soh is a familiar face at Yew Tee clinic. He graduated from National University of Singapore with a Bachelor of Dental Surgery and what inspired him to become a dentist was his early interaction with dentistry while having his braces done as a teenager. He has worked at the Health Promotion Board in Outram Road and was appointed the Dentist In-charge at SAFTI camp with the Singapore Armed Forces while serving his government bond. He is now still serving with the Republic of Singapore Navy as a Dental Officer during his reservist.
Dr Dennis Soh takes pride in always giving the best for every patient that he treats. No wonder he has accumulated a large pool of loyal and trusted patients all these years. Dr Dennis Soh constantly keeps up with the latest development in dentistry by attending continuing dental education courses so that his patients can benefit from the latest improvement in dental healthcare.
Dentistry beyond the clinics
Dr Dennis Soh is not a stranger to mission work. One of the stints he remembers clearly was the medical-dental mission he did in Tinombo, one of the many islands in the Riau area of Indonesia, which he volunteered with the Republic of Singapore Navy. Seeing young children with badly decayed teeth due to poor availability of dental healthcare reinforced his appreciation for the good life in Singapore that many of us took for granted. Nothing makes him more grounded than a dose of gratitude towards life.
Getting to know our Dentist
What are your special interest in Dentistry?
General Dentistry, for the varied scope and being the first point of contact for patients who need help.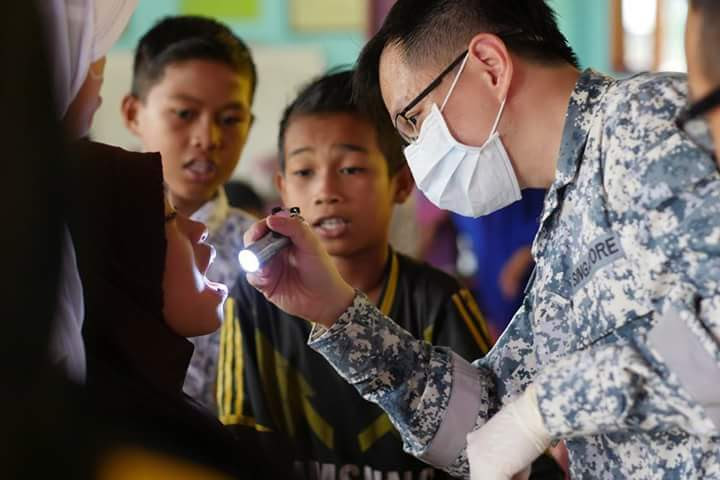 Why did you choose to be a dentist?
My early interaction with dentistry while doing my braces as a teenager.
What makes you a great dentist?
Always trying my best
What are your hobbies?
Computers games, playing seven-a-side football (futsal) and running to keep myself fit and healthy.