Dr Felicia Tan graduated from the National University of Singapore with a Bachelor of Dental Surgery. During her government bond, she has been posted to Toa Payoh Polyclinic that gave her exposure to community dentistry by treating patients from all walks of life. She was then posted to the National Dental Centre as a dental officer, allowing her to gain experience in the orthodontic department. The next posting to the Health Promotion Board (HPB) allowed her to handle children ranging from preschoolers, teenagers and pre-U students where she learnt chairside behavioural management of preschoolers. Her last posting was with the Singapore Armed Forces (SAF) where she performed more complex dental treatment.
Dr Felicia is gentle, attentive and detailed. She treats her patients with courtesy by listening to their concerns and providing personalised treatments to suit their needs. She continues to improve her clinical knowledge and skills diligently by attending regular dental courses to ensure that she always meets the needs of her patients.
Dentistry beyond the clinics
Dr Felicia believes in giving back to society and to reach out to the people in need. She had been to Sabai for mission trips to provide dental services and oral health instructions.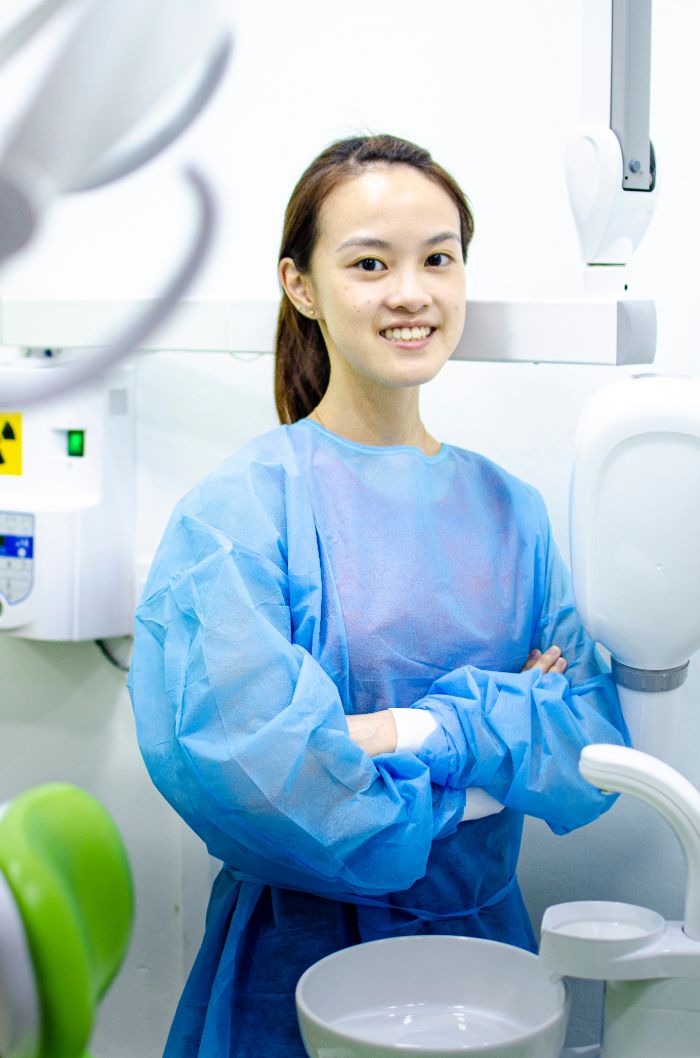 Getting to know our Dentist
Life after graduation
I have been traveling overseas with family and friends whenever time allows, because I really like to explore new places and cultures. During my free time from day to day, I'll try to fit in a quick exercise regime, and I am hoping to reboot my rusty yoga practice as well. Even more recently I am trying to pick up some decent cooking skills too!
Why did you choose dentistry?
It is something very close to my heart – it gave me the confidence to smile and talk in front of others, and even more simply just to have pictures or photos taken of myself.
What are the things that keep you motivated in dentistry?
Inspiration by senior figures from various parts of my dentistry journey
"You are not alone, even dentists ourselves also need regular checkups to maintain our smiles!
"
What are your hobbies?
Travelling
Relate TWO most interesting/challenging experiences so far in your dentistry career
1. Having the opportunity to volunteer in Sabai projects when I was in dental school – we are very privileged in Singapore to have dental awareness and access to care, and now we are equipped to help the less fortunate as well.
2. Meeting a particular patient that I have helped during the bond period in Greenlife, and witnessing the change from start to end – I was very grateful for the opportunity to be a part of her dental journey.
What is one advice you want to give to patients?
You are not alone, even dentists ourselves also need regular checkups to maintain our smiles!