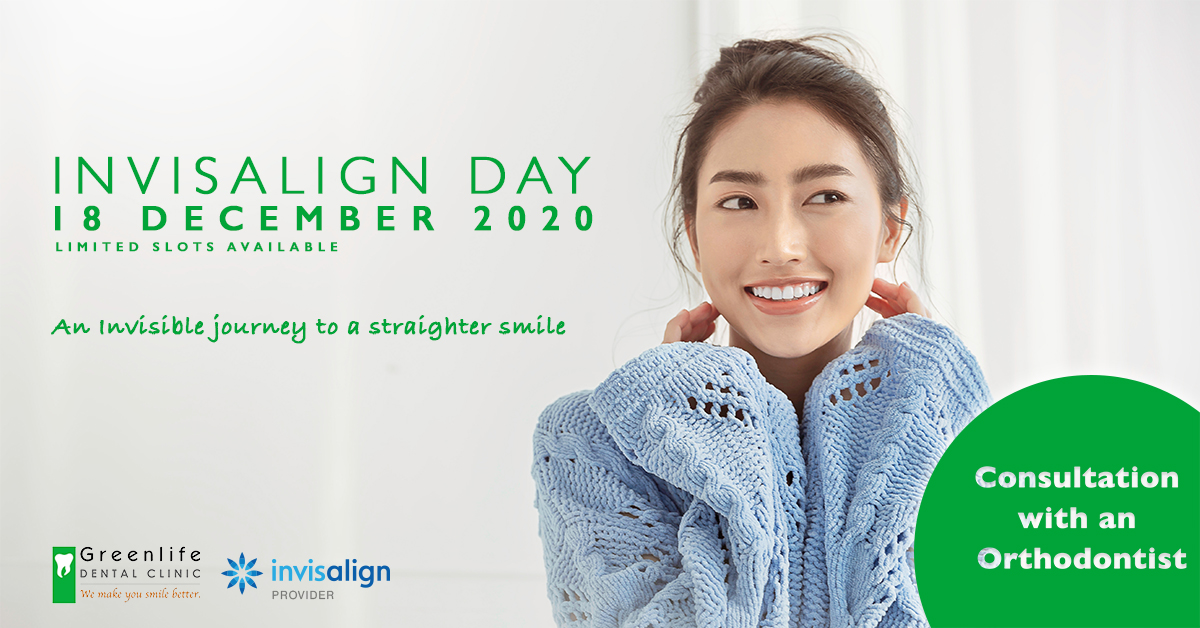 Greenlife Invisalign Day 2020
Date
18th December 2020, Friday

Time
9am – 9pm

Location
Greenlife Dental Clinic – Tiong Bahru 
18, #01-07 Jln Membina, 164018
6261 1161
Price
$30 (Consultation with an Orthodontist + iTero Scan)
*Our Orthodontist will have to assess your teeth before any iTero scan. Scaling and polishing might be required in order to have an accurate scan result.
123. Steps to getting Invisalign
STEP ONE: Book an Invisalign Day Consultation slot 
STEP TWO: Visit our Tiong Bahru clinic at your designated time slot
STEP THREE: Talk to our Orthodontist during the consultation to understand more
How much does Invisalign Package cost?
The package cost depends on the complexity of your case. Our Orthodontist will be able to advise you during your visit.
Flexible Installment Payment Plan Available
What is included in the treatment package?
3D Scans with iTero Element 2
Invisalign Clear Aligners
Review Visits
Retainer x 1 set
Scaling & Polishing x 1 Session (Invisalign day sign-ups only)
What is excluded?
Tooth Extraction (If required)
Additional Scaling & Polishing
Tooth Fillings (If required)
Due to popular demand and the limitation from COVID-19 restrictions, our clinic staff will confirm with you your appointment slot 1 day before your Invisalign consultation. We will have to free up the slot to others if you do not answer our phone calls. Hence, do look out for phone calls from +65 6261 1161.
Thank you for your understanding.
If our Invisalign Day consultation slots are not available anymore or are not suited to your schedule,
We will contact you once a slot is freed up for you.