Dr Judy Cheng , graduated with Bachelor of Dental Surgery from University of Otago in 1998. She stayed and worked in New Zealand for another 3 years to gain more experience before coming over to Singapore. She has been with Greenlife Dental Clinic since 2002, being one of the longest-serving dentists, she has developed a cult following among her patients with her honest, bubbly personality. She believes in giving good quality dental work with the intention to last a long time provided that her patient corporate and take care of their teeth. Her mantra which she lives by – "Treat my patients as if I am treating my own family" goes a long way in serving her patients well. She will give her professional opinions and treatment plan for her patients as she is treating her own family. Dr Judy loves general dentistry too much to restrict her scope of work to certain specialties. However, she does have an eye for esthetic dental work that makes her patient smile proudly.
Dentistry beyond the clinic
Dr Judy's desire to help her patients does not stop at the clinic, her volunteer mission trip to Yangon, Myanmar helped her to open her eyes to the world where dentistry is not easily available. She most likely will continue doing mission work when her kids grow up.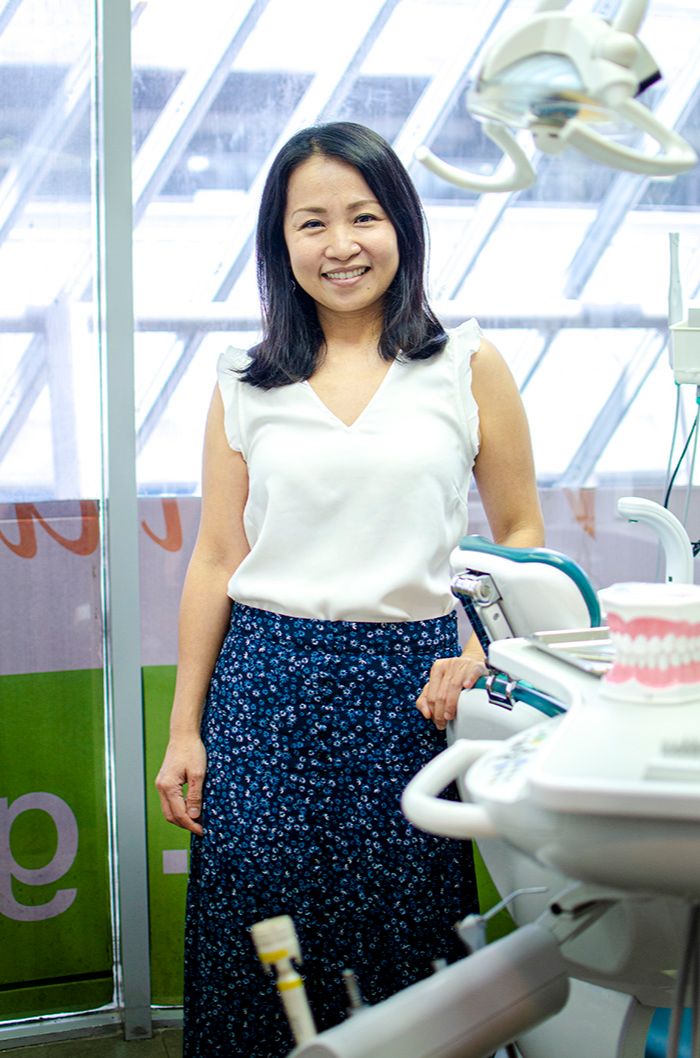 Getting to know our Dentist
Why did you choose to be a dentist?
It was a beautiful accident. While I was still studying in New Zealand, I wanted to study pharmacy but my grades turned out to be better than expected, giving me an opportunity to pursue dentistry and as the story goes, the rest is history. I have been enjoying dentistry every day since then.
What is one advice you want to give to patients?

Brush your pearlie whites and floss them well so that you don't have to spend too much money fixing them.
What are your favourite dental treatments, and why?
I love general dentistry too much to restrict my scope of work to certain specialities

"Brush your pearlie whites and floss them well so that you don't have to spend too much money fixing them. "
What are the things that keep you motivated in dentistry?
Gaining the trust and confidence of my patients after their first appointment, especially those who are very very scared of dental treatment male /female alike. Usually they come in so scared. I'm always very bubbly. Usually I manage to calm them with small little things , after they get the jab, usually they are surprised that they don't feel anything. So from there, they will let me do everything.

What are your Hobbies?
Cooking and travelling… Taking care of my two very active boys, and two lovely dogs