Dr Caslin Ong graduated with a Bachelor of Dental Surgery from National University of Singapore (NUS).
After graduation, she was posted to the National Healthcare Group (NHG) and SingHealth Polyclinics as a dental officer providing community dental care.
She had a generous exposure to dentofacial trauma and emergency dental problems from doing many overnight duties in the Accidents & Emergency (A&E) Department of the National Dental Centre (NDC) and National University Hospital (NUH). She also handled complex dental works during the office hours too. Her hospital attachment allowed her to manage many medically compromised patients who were referred from medical colleagues. Dr Caslin also treated many soldiers when working in Tengah Airbase as a dental officer with the Singapore Armed Forces.
She upgrades her clinical skills regularly through conferences, courses and mentorship programs.
Dentistry beyond the clinics
Dr Caslin's aim is to go for at least one mission trip per year. She has been to Surabaya, Batam, Philippines and Sri Lanka to help the villagers by teaching them basic oral hygiene, and performing dental treatments such as extractions and fillings. Such voluntary work makes her realize how we take the availability of dental care in Singapore for granted, and how anyone in another part of the world can help in their own small ways – even by giving out toothpastes and toothbrushes.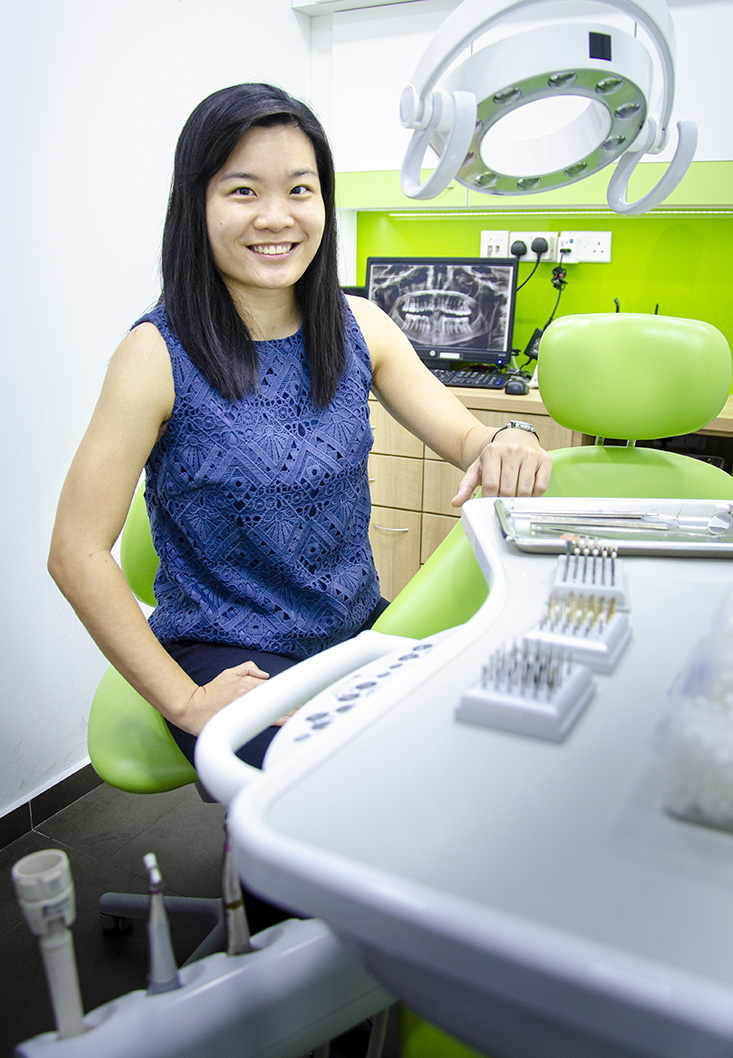 Getting to know our Dentist
Why did you choose to be a dentist?
I wanted a profession which was not desk-bound and something that allows me to be presented with different challenges daily. I guess dentistry is a good mix of that! It is also a mix of art and science. Dentistry allows me to be challenged to think on my feet (and sometimes to be creative) in order to problem-solve to help my patients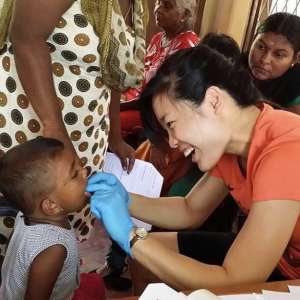 What are your favourite dental treatments, and why?
My favourite treatment? Tooth extractions! Fearful as it might sound, a good extraction process is not scary.
"I wanted a profession which was not desk bound, and something that allows me to be presented with different challenges daily. I guess dentistry is a good mix of that! it is also a mix of art and science."
What are your hobbies?
Seeing patients make up the most part of my week, so I spend my free time between church activities, exploring new cooking recipes. I recently picked up floorball and making bread is my newest hobby! I also try to go on one mission trip yearly to help people in other parts of the world with their dental needs.
What makes a dentist great?
Being a committed, responsible and caring dentist, who is able to connect with patients through strong interpersonal skills.
A great dentist will constantly seek improvement in clinical skills through courses and mentorship programmes to keep up with the evolution of dental knowledge, equipment and technology.
Relate an interesting / challenging experiences so far in your dentistry career
There was this very fearful patient who has been procrastinating her dental visit. Finally, one day she had to come because the tooth was giving her too much pain. Just the thought of coming to the dentist gave her nightmares and caused her so much anxiety. Unfortunately, her tooth had to be extracted. at the end of the extraction, she was so relieved that the process was over and more or less painless, that she gave me a hug spontaneously!
There was a 5-year-old girl who required quite a bit of dental work to be done. I was not the first dentist she had visited and the previous dentists could not get her cooperation on the dental chair. I spent lots of visits with her, sometimes so unfruitful that it seemed to bring us back to square one. Finally one day, we managed a dental filling and she has been a regular patient since. She even brought her younger brother along for treatment one day.