Dr Mok Li Qian graduated from National University of Singapore with a Bachelor of Dental Surgery. During his government bond, he served the general public in Community Dentistry at Jurong Polyclinic and Queenstown Polyclinic. While in National Dental Centre (NDC), he worked closely with the specialists to provide basic root canal treatment and administering preventive dental care for patients who are at high risk of developing dental caries.
In his attachment to KK Hospital, Dr Mok learnt to manage a range of basic dental treatments for children. His duty at the Accident and Emergency (A&E) Department allowed him to manage many dento-facial trauma and emergency dentistry. In Tan Tock Seng Hospital, he learned to manage many elderly patients with complex medical conditions and those with special medical needs. All these diverse working experience had spurred him to refine his skills in providing primary healthcare within the community.
Dr Mok is warm, friendly and has a good sense of humour that will easily put fearful patients at ease. He felt that everyone should have good oral health care and it is a basic human right. Many of his patients come from the lower income groups thus his treatment plan is always trying to achieve the goals of solving their dental problem with the most affordable plan.
Dentistry beyond the clinics
Dr Mok's strong desire to help his patients goes beyond the clinics. He had been to Cambodia and Myanmar to solve their dental pain with fillings and extractions for many villagers there. Such experiences reinforce his reason why he chose dentistry as a career in the first place – that is to work with people and to help people. He is looking forward to participate in more mission trips in the future.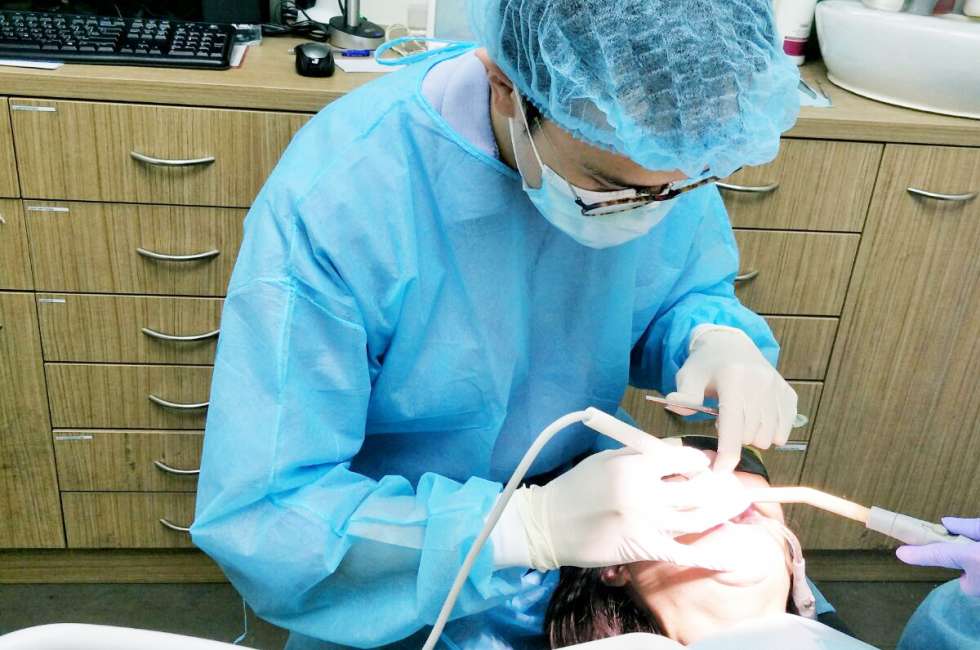 Getting to know our Dentist
Life after graduation
Graduating in the year 2013, I soon realized that it was one of the best years for dentistry in the Singapore community. Public awareness for dental treatment and the importance of oral health has dramatically increased in recent decades. This came as the society received better diagnostic aids, be it high-tech radiographic equipment, digital oral charting, pulp testing devices, etc.
As our diagnostics improved, we improved our ability to find diseases and treat them effectively. After all, you can't treat what you can't diagnose.
Improvements in treatment standards were coupled with huge subsidies provided for the low-income community to enable them to receive high-quality treatment in private clinics. This increased mobilization in the private sector to care for low-income families placed our services within the reach of every citizen in Singapore.
What are your favourite dental treatments, and why?
I am deeply interested in restoring teeth with fixed prostheses and implants. Once considered an expensive treatment option, implants have replaced teeth with a good balance in aesthetics and function. Nowadays, we see a trend where implants are becoming more affordable and more prevalent. This prevalence will ensue; and before long, people across different income groups in Singapore will see dental implants as their first choice when it comes to replacing their lost teeth.
I also enjoy doing extractions and wisdom tooth surgeries. it's nice to hear patients say that their extraction was a painless experience. Most of the time patients are very apprehensive or even fearful when they know that they are about to have a tooth removed. So compliments from patients really encourage me to hone my craft even further.
Why did you choose to be a dentist?
Dentists have a niche in the market. They provide a narrow field of work which is essential to the society. I also found out that dentists have stable income and pretty flexible working hours. Of course there are plenty of down sides, but we can get to those points next time.
What are the things that keep you motivated in dentistry?
My motivation comes mainly from the drive to reinvent myself every now and then. Clinically, we take up the occasional challenges that presents to us. Sometimes we encounter problems that are not straightforward to solve. Some people describe dentistry as a combination of art and science. Instead of running away from all our problems, we face our challenges and try to solve them with some flexibility and a bit of creativity.
When I am not at work, I try to hone some skills and advance knowledge in other fields, such as general sciences, basic economics, fundamental culinary tricks etc. This is only possible because my working hours are flexible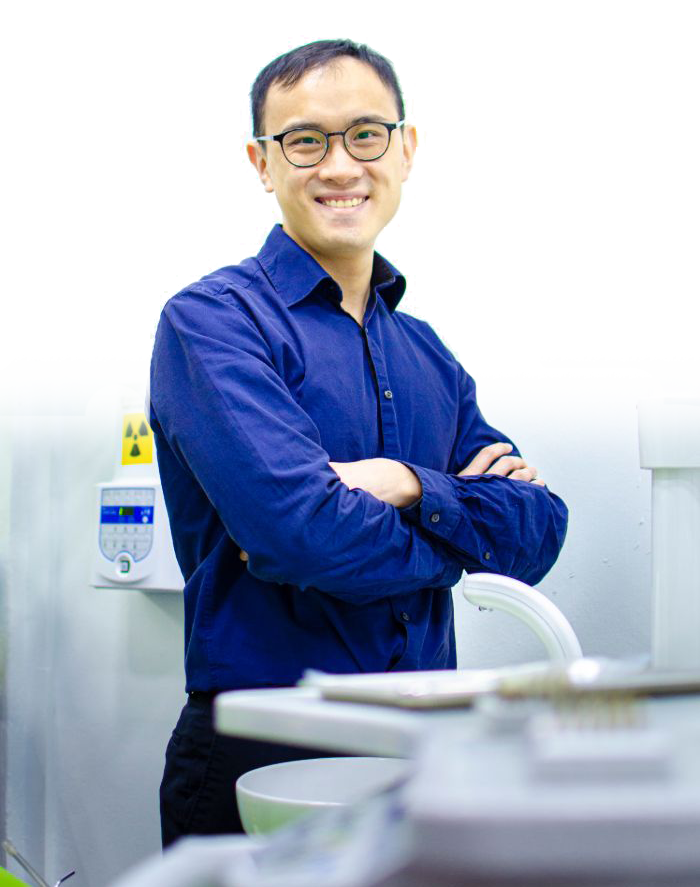 What are your Hobbies?
I am an absolute movie junkie. A good story teases our minds and changes our perceptions on different controversies around the world. With the help of CGI, a well-illustrated film stretches our imagination by showing us worlds that we could never dream of. While at home, I will make time for some resistance body training. Maintaining my body's strength and stamina is the key to optimizing my time for everything I do, so that I can work longer and work harder for every task at hand. As an avid fan of good home cooked food, I am always on the lookout for simple recipes in books, blogs or videos so that I can prepare the occasional home-cooked meal for my family.
" Nowadays, we see a trend where implants are becoming more affordable and more prevalent. This prevalence will ensue; and before long, people across different income groups in Singapore will see dental implants as their first choice when it comes to replacing their lost teeth."
Relate an interesting/challenging experience so far in your dentistry career
1. One of my friends referred his mother to our clinic because she had a lot of difficulties eating with her lower full denture. It was moving around all the time, it was painful to wear when she bites on hard foods, and sometimes it even drops out when she sneezes.
After I replaced her acrylic denture with an implant-supported removable prosthesis, she was extremely grateful. From then on, she can enjoy her meals with the confidence to bite on meat and also not having to worry about her teeth falling out of her mouth.
2. Another memorable experience was when I joined a humanitarian group to Myanmar in 2017 for missionary work. The group, Humanitarians With Love was a multi-disciplinary group made up of over 200 volunteers providing services such as medicine, pharmacy, optometry, traditional Chinese medicine and dentistry.
We took our services to a remote village called Bago where healthcare services were difficult to access. As part of the dental team, we provided basic dental treatment for the villagers. It is an eye-opening experience as it showed me the value of humility and servitude. It showed me how a group as large as 200 people can come together, put our resources and our time together with only one objective in mind – service.