Dr Phay Yong Kang graduated on the Dean's List from the Faculty of Dentistry, National University of Singapore (NUS) with a Bachelor of Dental Surgery. He was awarded the Oral and Maxillofacial Surgery Medal, Robert Lin Memorial Medal as well as University Medal during his studies. Having a keen interest in dental implantology and oral surgery, Dr Phay has completed several postgraduate programs that gives him an edge in Dental Implantology and Orthodontics.
Although he is highly skilled in Orthodontics, Dental Implantology and Oral Surgery, Dr Phay chose to remain a general practitioner as he believes in treating all his patients within an all-rounded and broad-minded approach.
Dr Phay is a firm believer of continuing education, and even after graduation, he has not stopped learning, regularly attending workshops, conferences and training courses to constantly upgrade himself and improve his clinical skills. Patients can rest assure that they will always receive the most updated treatment options from him performed with finesse.
Dentistry beyond the clinics
Dr Phay's exposure to humanitarian work started when he was still a dental student. His first trip to
Cambodia offered him the opportunity to witness how much people suffered from dental pain due to
poor access to dental care. He joined Greenlife Dental Clinic because our philosophy resonates with his.
Recently, he went back to Cambodia, this time in Siem Reap, to provide dental care to the villagers, in
the form of extractions and fillings, relieving pain and restoring smiles in the villagers.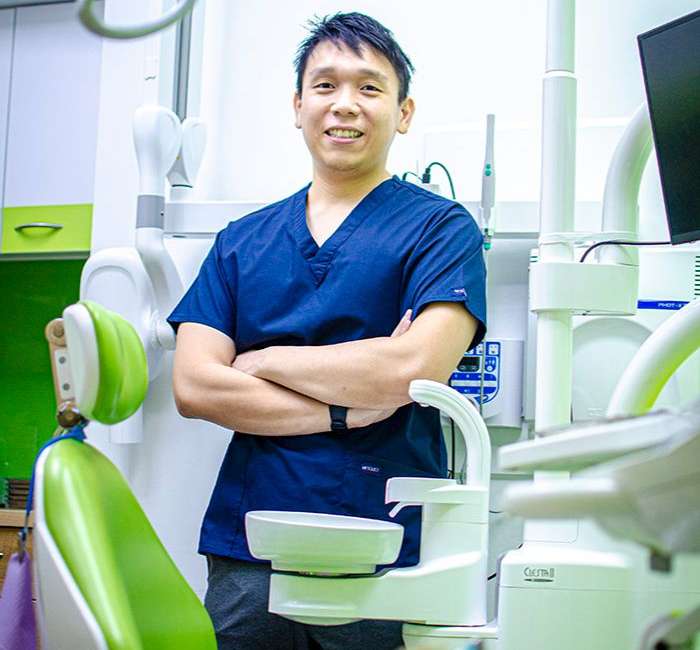 Additional qualifications:
Advanced Orthodontic Program (3 years)
Practical Clinical Orthodontics (PCO) Course, New York, USA.
Graduate Diploma in Dental Implantology (GDDI), NUS, Singapore

Certified Invisalign Provider
Getting to know our Dentist
Why did you choose to be a dentist?
I chose dentistry because it is a career where you are able to do actual work with your hands to help people with their dental needs. Teeth is something that is very personal and precious and cannot be bought with money. Being able to relieve someone's pain and improve their oral condition makes dentistry a meaningful job.
Relate an interesting / challenging experiences so far in your dentistry career
1) An indian elderly woman whom I made new dentures for cooked up a briyani meal specially for me and the clinic staff after her treatment. Really touched because the meal was very heavy and she had mobility issues.
2) My braces patients who request to take picture with me on the day of debonding
What are the things that keep you motivated in dentistry?
The appreciative patients who are thankful after their dental treatment.
Also, things like seeing the patient's smile transformation, knowing that I had a part to play in it keeps me motivated in dentistry.
"Being able to relieve someone's pain and improve their oral condition makes dentistry a meaningful job."
What are your hobbies?
I like photography and enjoy travelling with my lovely wife.
What are your favourite dental treatments, and why?
Dental implant treatment – It is very challenging to achieve perfect results. From the start which is placing the implant and to the end which is the fitting of the crown, the dentist is involved and in control of most parts of the process. Seeing that the efforts put in finally bear fruit gives me a sense of accomplishment.
Braces – this treatment typically stretches for 2 years or more. During the process, I am grateful to get to know more about them and their lives. Seeing their smiles and self-confidence improve at the end of treatment also makes me happy, knowing that I had a part to play in it